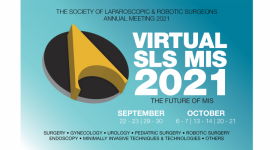 VIRTUAL SLS MIS 2021
Veranstalter: Society of Laparoscopic and Robotic Surgeons (SLS)
Veranstaltungsort: Virtual event,
Webseite:
Auf Seite
Virtual SLS MIS 2021 is a multispecialty conference presented by the Society of Laparoscopic & Robotic Surgeons (fka Society of Laparoendoscopic Surgeons). Its target audience consists of general surgeons, gynecologists, urologists, pediatric, thoracic surgeons and others interested in laparoscopic, endoscopic, robotic, and minimally invasive surgical techniques.

The Virtual Meeting consists of focused topic updates on multiple clinical problems and applications in General Surgery, Gynecology, Urology, Pediatric Surgery, Robotics and Multispecialty. Scientific Presentations of peer-reviewed abstracts, videos and posters will be coupled with Q&A discussion led by moderators who are experts in their field. Presentations by winners of competitions for Best Papers, Videos, and Scientific Posters; and General Surgery, Gynecology, Urology, and Multispecialty Scientific Presentations will be highlighted. The meeting is open to students, residents, fellows, clinicians and others allied to the field.

Virtual SLS MIS 2021, The Future of MIS, employs a variety of educational formats including topical general sessions, the presentation of scientific papers, open forums, posters, and original videos.

The increasing complexity of minimally invasive diagnostics and therapy requires a continuous educational process. The exchange of knowledge and expertise among the physicians taking part in this conference contributes to the continuation of excellence in minimally invasive surgery.

Upon completion of the conference, participants will be able to:

- Increase comprehension of the basic and fundamental principles of laparoscopic, endoscopic, and minimally invasive techniques, enhancing the participant's understanding of these techniques;
- Understand the recent advances in laparoscopic, robotic, and minimally invasive techniques;
- Determine the appropriate use of laparoscopic, robotic, and minimally invasive equipment as part of a treatment plan in the care of patients;
- Comprehend the developing technologies that will be available in the future to enhance the standard of patient care; and
- Acquire educational information within the physician's specialty, which will enhance their professional development and patient care.
Die vergangene Veranstaltungen